Rice farmers will be able to access funding in the form of loans at a low-interest rate thanks to a deal signed between the Fiji Development Bank and Fiji Rice Ltd. Rice farmers without a formal lease can receive loans with a minimum of $5000 to $10,000 without any collateral under the FDB's new financial solution Rice Mobility Package.
This loan facility has been available since December 1 of this year with the lowest interest rate starting at 4.99 percent. It aims to provide Farmers, joint ventures, cooperatives, and those in partnerships or companies who want to start venturing rice production or are already doing so to get financial help for agriculture land purchase, land development, buying farm machinery for use or renting out to farmers, buying seedlings, meeting labor costs, and other working capital needs.
---
Technical Assistance For Farmers For Better Production and a Resilient Supply Chain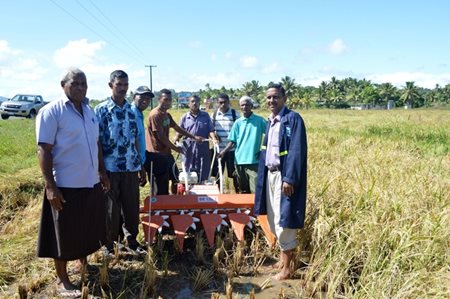 FDB chief executive officer Saud Minam said that the Rice Mobility Package promotes the expansion of rice production and encourages farmers to use banking services that integrate them into the value chain and would provide access to financing for those without a lease or land title.
"Through this partnership with Fiji Rice, farmers will receive technical assistance on improving their production. This would strengthen the value chain which in return would ensure the provision of jobs to service providers in the value chain such as seedling suppliers, machinery operators, transportation SMEs, and packaging companies among others. With these barriers removed, farmers can concentrate on improving their production capacity, and on ways of making the supply chain more resilient to economic and natural shocks such as those caused by climate change", he said.
---
Rice Mobility Package Will Be the Game Changer For Rice Farming in Fiji
Individual rice farmers, joint ventures, and cooperatives, as well as those in a partnership or corporation, can access up to $250,000 through the Rice Mobility Package at subsidized interest rates, while loans exceeding $250,000 will be considered at a commercial rate at varying interest rates. FDB and Fiji Rice Ltd will support rice production through value chain financing, a concept that connects farmers to a guaranteed market, allowing them to access financing and technical assistance more easily, as well as processors to secure consistent supply.
Moreover, the President of Fiji, Ratu Wiliame stated that he had been involved with the Fiji Rice Ltd board in promoting the sustainability of the rice sector in Fiji. According to the Ministry of Agriculture, Fiji only produces 16% of the rice that the nation needs. Another thing to note is that Fiji's rice import bill stands at around $40 million for 40,000 tonnes annually. With the help of the Rice Mobility Package, more farmers can engage in rice farming and will result in more rice planting. In return, this can help lower the rice import bill.
The Fiji President is also optimistic about the indirect benefit to the country's economy that the loan package may bring. By lowering the rice import bill, money can be used to fund other sectors such as education and health. He also believes that this package will help address the issue of farmers related to finance, infrastructure, land, markets, and machinery. Therefore, the people of Fiji should take advantage of this opportunity.
William also stated that agriculture should not be viewed as a last resort profession or a means to a goal, but rather as a long-term answer for food security and self-sufficiency for the people of Fiji and their economy. Luckily, Fiji does not experience rice and food shortages, but due to its location in the Pacific, they experience Tropical Cyclon that brings floods and hampers the harvest of rice, a dilemma they share with rice-producing Asian countries being devastated by floods.
Thus, rice planting becomes expensive for individual rice farmers. With the Rice Mobility Package, Wiliame is optimistic that they will now be able to provide sufficient financial support for rice farmers and in the future, they will be able to incorporate innovations to rice propagation.
Fiji Rice Ltd board chairman Raj Sharma says there is a lot of interest coming from small sector farmers, co-operatives, former inmates, and farmers who were landowners that wanted to engage in rice farming. Recently, Sharma had a meeting with Commissioner Eastern, who highlighted the huge interest from the people in the Eastern Division for rice planting.
Farmers from other parts of the country, namely Ra, Navua, Ba, Tavua, and Rakiraki have also shown a huge interest in rice farming.